Social responsibility has become a major concern nowadays, as the pressure from the public for organizations to behave in a more socially responsible manner and adhere to social standards has significantly increased. Organizations around the world need to take the necessary measures toward enhancing their social performance and making the world a better place. By improving your performance through the adoption of ISO 26000, you will demonstrate to the audience that you are contributing towards a sustainable development.
By becoming ISO 26000 certified, you will not only prove that you are effectively delivering products and services to stakeholders and public; you will also demonstrate that you care about the environment and its sustainability. Moreover, you will enhance the reputation of the company by attracting new customers and employees, who wish to maintain a healthy ecosystem.

ISO 26000 and Organizational Social Responsibility
Is intended as guidance, not for certification
Presents a comprehensive documentation of social responsibilities including core subjects and issues related to those subjects
Was published in 2010 by the International Organization for Standardization (ISO), a specialized international agency for standardization composed of the national standards bodies of more than 160 countries
Was written by a unique multi-sectoral group representing governments; non-governmental organizations (NGOs); industry; consumer groups; labor; and academic, consulting, and other organizations around the world
More than 400 experts and 200 observers from 99 countries and 42 international organizations contributed to the development effort
Last reviewed for possible revision in 2014
The ISO 26000 standard provides guidance on:
Recognizing social responsibility and engaging stakeholders
Ways to integrate socially responsible behavior into the organization
The seven key underlying principles of social responsibility:

Respect for stakeholder interests

Respect for the rule of law

Respect for international norms of behavior

The seven core subjects and issues pertaining to social responsibility:

Organizational governance

Community involvement and development
In addition to providing definitions and information to help organizations understand and address social responsibility, ISO 26000-2010 emphasizes the importance of results and improvements in performance on social responsibility.
Organizations in the private, public, and nonprofit sectors, whether large or small, and whether operating in developed or developing countries, use ISO 26000. All of the core subjects of social responsibility are relevant in some way to every organization.
Since the core subjects cover a number of issues, organizations will benefit when they identify which issues are most relevant and significant for them through examination of their own considerations and dialogue with stakeholders.
What does ISO 26000 accomplish?
ISO 26000 aims to:
Assist organizations in addressing their social responsibilities while respecting cultural, societal, environmental, and legal differences and economic development conditions
Provide practical guidance related to making social responsibility operational
Assist with identifying and engaging with stakeholders and enhancing credibility of reports and claims made about social responsibility
Emphasize performance results and improvement
Increase confidence and satisfaction in organizations among their customers and other stakeholders
Achieve consistency with existing documents, international treaties and conventions, and existing ISO standards
Promote common terminology in the social responsibility field
Broaden awareness of social responsibility
This standard is not intended to reduce government's authority to address the social responsibility of organizations.
How to get started with ISO 26000
OSS can help you to get ISO 26000-2010, the American National Standards Institute version of ISO 26000:2010.
CORE SUBJECTS OF SOCIAL RESPONSIBILITY
The ISO 26000 standard defines the core subjects of social responsibility. Core subjects comprise a number of issues, but it is each organization's responsibility to identify issues are relevant and significant to their stakeholders and/or need to be addressed.
The seven core subjects are explained in Clause 6 of the ISO 26000 standard. They are listed below, along with their subclause numbers.
Core subject: Organizational governance, subclause 6.2
Decisions are to be made in consideration of the expectations of society. Accountability, transparency, ethics, and stakeholders should be factors in the organization's decision-making process.
Core subject: Human rights, subclause 6.3
All humans have the right to fair treatment and the elimination of discrimination, torture, and exploitation.
6.3.3 Due diligence
6.3.4 Human rights risk situations
6.3.5 Avoidance of complicity
6.3.6 Resolving grievances
6.3.7 Discrimination and vulnerable groups
6.3.8 Civil and political rights
6.3.9 Economic, social, and cultural rights
6.3.10 Fundamental principles and rights at work
Core subject: Labor practices, subclause 6.4
Those working on behalf of the organization are not a commodity. The goal is to prevent unfair competition based on exploitation and abuse.
6.4.3 Employment and employment relationships
6.4.4 Conditions of work and social protection
6.4.5 Social dialogue
6.4.6 Health and safety at work
6.4.7 Human development and training in the workplace
Core subject: Environment, subclause 6.5
The organization has a responsibility to reduce and eliminate unsustainable volumes and patterns of production and consumption and to ensure that resource consumption per person becomes sustainable.
6.5.3 Prevention of pollution
6.5.4 Sustainable resource use
6.5.5 Climate change mitigation and adaptation
6.5.6 Protection of the environment, biodiversity, and restoration of natural habitats
Core subject: Fair operating practices, subclause 6.6
Building systems of fair competition, preventing corruption, encouraging fair competition, and promoting the reliability of fair business practices help to build sustainable social systems.
6.6.3 Anti-corruption
6.6.4 Responsible political involvement
6.6.5 Fair competition
6.6.6 Promoting social responsibility in the value chain
6.6.7 Respect for property rights
Core subject: Consumer issues, subclause 6.7
The promotion of just, sustainable, and equitable economic and social development with respect to consumer health, safety, and access is the organization's responsibility.
6.7.3 Fair marketing, factual, and unbiased information and fair contractual practices
6.7.4 Protecting consumers' health and safety
6.7.5 Sustainable consumption
6.7.6 Consumer service, support, and complaint and dispute resolution
6.7.7 Consumer data protection and privacy
6.7.8 Access to essential services
6.7.9 Education and awareness
Core subject: Community involvement and development, subclause 6.8
The organization should be involved with creating sustainable social structures where increasing levels of education and well-being can exist.
6.8.3 Community involvement
6.8.4 Education and culture
6.8.5 Employment creation and skills development
6.8.6 Technology development and access
6.8.7 Wealth and income creation
6.8.8 Health
6.8.9 Social investment
Learn more about these social responsibility core subjects from the International Organization for Standardization (ISO).
WHAT IS SOCIAL RESPONSIBILITY REPORTING?
ISO 26000: Guidance on social responsibility urges that, at appropriate intervals, users should report on their performance on social responsibility to the stakeholders affected. The standard suggests that the report should include:
Information about objectives and performance on the core subjects and relevant issues of social responsibility
How and when stakeholders have been involved in the reporting
A fair and complete picture of performance, including achievements and shortfalls, and the way in which shortfalls will be addressed
ISO 26000 suggests that the credibility of reports would be enhanced by addressing conformance to the reporting guidelines of an external organization.
The Global Reporting Initiative (GRI), a non-governmental organization (NGO) founded to develop and manage a sustainability reporting framework, has published a guidance document called GRI G4. The document provides assistance to organizations who wish to use GRI guidelines as the reporting framework for their implementations of ISO 26000.
Another NGO, CSRWire, offers CSR & Sustainability Reports, a collection of current and past corporate sustainability, social responsibility, and environmental reports, as well the press releases that accompanied the reports.
You can also search articles, case studies, and publications for ISO26000 resources.
Books
ISO 26000 In Practice: A User Guide
Sustainable Business And Industry
Articles
Social Responsibility And The Quality Professional: The Implications Of ISO 26000 (PDF) Quality professionals can be of great assistance in advancing a corporate strategy that has both socially-focused and bottom-line benefits. This paper reviews key elements of the new standard to enhance understanding and explore its implications for quality professionals.
Embedding Social Responsibility Principles Within Quality Leadership Practices (Quality Management Journal) The same leadership behaviors used to shift culture for quality improvement purposes can be used toward shifting culture toward social responsibility. Use ISO 26000 as a framework of what to do and how to behave to embed social responsibility principles during culture shift.
Socially Constructed (Quality Progress) Lord John Browne, former chief executive at BP, has announced the failure of corporate social responsibility. Poor reporting and lack of standardization seemed to doom the initiative. But is there still hope?
Understanding And Achieving Social Responsibility (Journal for Quality and Participation) Many organizations strive to make social responsibility a key perspective in future plans and strategies. Many quality professionals believe that quality and social responsibility are tied together, and deepen the field by taking processes into account. Because social responsibility is still a hard term to define, the International Organization for Standardization released its standard, ISO 26000.
Webcasts
ISO 26000 In Practice Authors Michelle Bernhart and Sonny Maher provide an overview of social responsibility and introduce the ISO 26000 standard and their book, which acts as a point-to-point guide to integrating SR in your organization.
Benefits of ISO 26000 Social Responsibility
By becoming ISO 26000 certified, you will be able to:
Increase your profits
Help the organization behave in a more socially responsible manner
Enhance the internal processes so that you contribute to the environment
Increase the awareness of the impact of social responsibility
Motivate the employees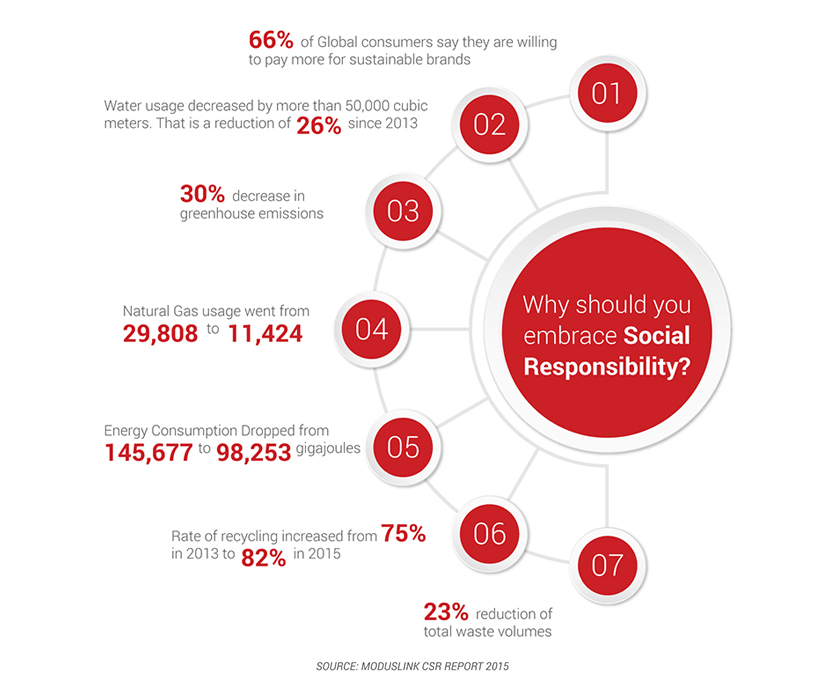 How do I get started with ISO 26000 Training?
ISO 26000 certification is becoming fundamental to the short and long-term success of any organization. Thus, by obtaining our ISO 26000 certificate, you will be able to manage todays' issues and be better prepared for tomorrow. Having gained worldwide recognition for our services and integrity, our global network of experts will guide you through all the necessary steps in effectively adopting the standard according to your business culture.
Voluntary Guidance Standard for All Organizations
ISO 26000 offers guidance on socially responsible behavior and possible actions. There are three ways in which it is different from the more widespread standards designed for companies to use to meet particular requirements for activities such as manufacturing, managing, accounting and reporting:
ISO 26000 is a voluntary guidance standard: it does not contain requirements such as those used when a standard is offered for "certification". There is a certain learning curve associated with using ISO 26000, because there is no specific external reward – certification – explicitly tied to ISO 26000. ISO recommends that users say, for example, that they have "used ISO 26000 as a guide to integrate social responsibility into our values and practices".
ISO 26000 is designed for use by all organizations, not only businesses and corporations. Organizations such as hospitals and schools, charities (not-for-profits), etc. are also included. ISO 26000 makes particular efforts to show that its flexibility means that it can be applied by small businesses and other groups as well So far,[when?] many of the earliest users of ISO 26000 have been multi-national corporations, especially those based in Europe, and East Asia, particularly Japan.
ISO 26000 was developed through a multi-stakeholder process, meeting in eight Working Group Plenary Sessions between 2005 and 2010, with additional committee meetings and consultations on e-mail throughout the five-year process. Approximately five hundred delegates participated in this process, drawn from six stakeholder groups: Industry, Government, NGO (non-governmental organization), Labour, Consumer, and SSRO (Service, Support, Research and Others – primarily academics and consultants). Leadership of various task groups and committees was "twinned" between "developing" and "developed" countries, to ensure viewpoints from different economic and cultural contexts. Since ISO operates on a parliamentary procedure form based on consensus, the final agreed-on standard was the result of deliberation and negotiations; no one group was able to block it, but also no one group was able to achieve its objectives when others strongly disagreed. The goal was to make ISO 26000 accessible and usable by all organizations, in different countries, precisely because it reflects the goals and concerns of each and all of the stakeholder groups in its final compromise form.
Key Principles and Core Subjects of ISO 26000
The Seven Key Principles, advocated as the roots of socially responsible behavior, are:
Ethical behavior
Respect for stakeholder interests (stakeholders are individuals or groups who are affected by, or have the ability to impact, the organization's actions)
Respect for the rule of law
Respect for international norms of behavior
Respect for human rights
The Seven Core Subjects, which every user of ISO 26000 should consider, are:
Organizational governance
Human rights
Labor practices
Environment
Fair operating practices
Consumer issues
Community involvement and development
Many of the 84 pages of the standard are devoted to definitions, examples, and suggestions on how to identify and communicate with stakeholders, and how to identify and address specific issues in each Core Subject area.
To Obtain a Copy of ISO 26000
ISO 26000 is available for sale by National Standards Bodies in many countries. Prices are set by the different National Standards Bodies, and vary widely. ISO 26000 is available in many national and international languages, including Arabic, Bulgarian, Czech, Dutch, English, French, German, Indonesian, Italian, Japanese, Kazakh, Korean, Montenegrin, Norwegian, Polish, Portuguese, Romanian, Russian, Serbian, Slovak, Spanish, Swedish, Thai, Vietnamese. ISO 26000 is copyrighted by ISO. See the ISO webpage at http://www.iso.org for more information.
User Guides to ISO 26000
There is a growing number of user guides, many of which are significantly less expensive than the standard itself. Quality and applicability of these guides will vary widely. An assessment tool has been worked out e.g. by The Royal Norwegian Society for Development (Norges Vel), supported by the Asociatia Pentru Implementarea Democratiei (AID -Romania). The ISO's International Workshop Agreement IWA 26:2017 provides guidance on "using ISO 26000:2010 in management systems".
Additional information and critiques
The ISO 26000 Scope states "This International Standard is not a management system standard. It is not intended or appropriate for certification purposes or regulatory or contractual use. Any offer to certify, or claims to be certified, to ISO 26000 would be a misrepresentation of the intent and purpose and a misuse of this International Standard. As this International Standard does not contain requirements, any such certification would not be a demonstration of conformity with this International Standard."  This statement includes that ISO 26000 cannot be used as basis for audits, conformity tests and certificates, or for any other kind of compliance statements. It can however be used as a statement of intention by the CEO and this is seen as its main value.
The practical value of ISO 26000 has been debated. It might be limited if it merely provided a common understanding of social responsibility instead of also facilitating management routines and practices leading to social responsibility. Despite the non-certifiability, some scholars see distinct elements of a management system standard also in ISO 26000. Against this background, the potential benefits of the new standard, the managerial relevance, and specific limitations of ISO 26000 are currently being discussed. Critiques include the lack of any certification, the potential to "decouple" and isolate corporate social responsibility issues in an organization (Schwarz & Tilling 2009), the difficulty for smaller organizations to access the 100-plus-page "textbook" form of the standard, and the fact that the best practices represented by the standard tend to age; to address at least this last concern, interested parties are tracking the need and timing of a possible update. There is also a concern that ISO 26000 is just one among "too many" social impact reporting standards available to corporations.
As a guidance document the ISO 26000 is an offer, voluntary in use, and encourages organizations to discuss their social responsibility issues and possible actions with relevant stakeholders. As service providers, certification bodies do not belong to an organization's stakeholders. ISO 26000 encourages its users to reconsider an organization's social responsibility or "socially responsible behaviour" and to identify/select from its recommendations those where the organization could/should engage in contributions to society. ISO 26000 encourages its users to report to their stakeholders, and get feedback, on actions taken to improve their social responsibility.
It is this identification of "stakeholders" that makes the ISO 26000 an important step forward in solving the dilemma presented by corporations still in pursuit of single bottom line accountability, moving the discussion beyond Triple Bottom Line Accountability. It is also an important step in the development of business-led social responsibility initiatives which evidence suggests is much more effective than government-regulated social responsibly policies.[12]
Project aim
There is a range of many different opinions[citation needed] as to the right approach to ethical and socially responsible behavior by businesses, ranging from strict legislation at one end to complete freedom at the other. ISO 26000 is looking for a golden middle way that promotes respect and responsibility based on known reference documents without stifling creativity and development. ISO (established 1947 to promote international trade by developing manufacturing standards) is now composed of 162 members, each of which is a National Standards Board of a particular country. ISO's expansion into the field of Social Responsibility (Corporate Social Responsibility) was driven by many factors, including a recognition that the pace of global development calls for increasing actions by organizations, including businesses, to reduce their harmful impacts on people and communities, and increase their positive impacts.
Development leadership
ISO chose the Swedish Standards Institute (SIS) and the Brazilian Association of Technical Standards (ABNT) to provide the joint leadership of the ISO Working Group on Social Responsibility (WG SR). The WG SR was given the task of drafting an International Standard for social responsibility that was published in 2010 as ISO 26000.
Target: wide range
The need for organizations in both public and private sectors to behave in a socially responsible way is becoming a generalized requirement of society. It is shared by the stakeholder groups that participated in the WG SR to develop ISO 26000: industry, government, labor, consumers, nongovernmental organizations, and others, in addition to geographical and gender-based balance.[14] A Memorandum of Understanding was developed between the ISO Group and the United Nations Global Compact in order to both develop and promote the ISO 26000 as the go to Standard for CSR. Unfortunately the United Nations Global Compact did not fulfill its commitment under that MOU nor subsequent commitments to bring the ISO 26000 to the other 90 UN agencies.
………………………………………………
Oss Middle East Company:

Aim to help organization in all sectors in Egypt and Middle East to apply the international standard in Quality Management systems in all fields.

OSS accredited by:-
OSS register by Many Egyptian Organization:
Other Article:-