Total Quality Management (TQM) emerged in the 1980s in response to economic losses experienced due to Japanese manufacturers producing higher quality goods at lower cost. TQM was a natural outgrowth of the Toyota Production System, eventually giving rise to approaches like Lean Manufacturing and Six Sigma.
Companies that adopt TQM and related process excellence methodologies need a specific set of Quality Management System tools. With that in mind, today we're looking at how the QMS supports what the American Society for Quality (ASQ) calls the 8 principles of TQM.
TQM, or Total Quality Management, is a method of assessing quality concerning internal company criteria. On the other hand, a QMS, or Quality Management System, is indeed a group of procedures, procedures, and tools created to ensure excellence and compliance with customer and regulatory criteria.
TQM Essential components
1. Customer Focus
The American Society for Quality (ASQ) defines Total Quality Management (TQM) as "a management approach to long–term success through customer satisfaction."
Quality is defined from the customer's perspective, and a proactive quality culture leverages QMS tools aimed directly at increasing customer satisfaction.
These tools include:
Complaint Management processes: Proactively managing customer complaints helps contain problems and turn them into improvement opportunities.
Risk Management: Using risk assessments and tools like Failure Modes and Effects Analysis (FMEA) helps you protect consumers from quality and safety risks.
Compliance tracking: Centralizing regulatory, standard and customer requirements lets you link them to controls and analyze gaps.
2. Empowered Employees
An engaged workforce is the engine that drives TQM, which helps employees take ownership of quality by providing data and feedback on how their efforts impact quality.
An automated system in particular helps teams communicate and work together more effectively, giving employees confidence in the quality mission.
3. Process Approach
Like many quality philosophies, TQM draws from the process approach aimed at understanding the link between process inputs and finished quality.
A QMS supports the process approach by addressing every element of the Plan-Do-Check-Act cycle, including steps such as:
Documenting processes.
Assessing risk.
Audits.
Corrective action.
4. Integrated Systems
TQM emphasizes the connection of different functions and process areas into an integrated business system. A fully integrated QMS ties together the full range of quality processes, also moving data to and from other business systems. These could include Enterprise Resource Planning (ERP) or Manufacturing Execution Systems (MES), as well as other processes like finance and human resources.
5. Strategic Management
Companies must have a strategic plan that makes quality a top priority. More than just writing a plan, you need to take action to achieve it. That means:
Presenting quality and risk data at high-level management reviews and soliciting cross-functional engagement.
Providing for high-leverage initiatives in the quality budget.
Reviewing and communicating results regularly.
6. Continuous Improvement
The most prevalent quality management strategies all place special emphasis on continuous improvement. The QMS supports continuous improvement, but only if you have a closed-loop process to address issues you find. In this sense, an automated QMS holds a distinct advantage over manual tracking and follow-up methods.
7. Data-Driven Decision-Making
TQM focuses on making decisions based on performance data. A proactive organization will collect and analyze data on an ongoing basis, using integrated Reporting tools to analyze trends and take action.
One critical aspect in making better decisions through data is accounting for risk. That's because risk provides an objective yardstick for moving from "maybe we need a new control here" to "the calculated risk level is unacceptable according to established criteria."
8. Communication
The final element of TQM is communication. Any management expert will tell you that communicating results helps motivate employees, who need to know if they're doing a good job.
Automation can help here, since manual data entry and analysis tends to delay communication of results. That is, if they're communicated at all to front-line employees, to whom performance data just as much as leadership does.
Designing and Implementing Your QMS
No matter whether you're using Lean, Six Sigma, TQM or some combination, you'll want to make sure you take time to design your QMS carefully. By incorporating some of the key tools we've discussed here, you can ensure that your processes will run smoother so you can focus on making improvements.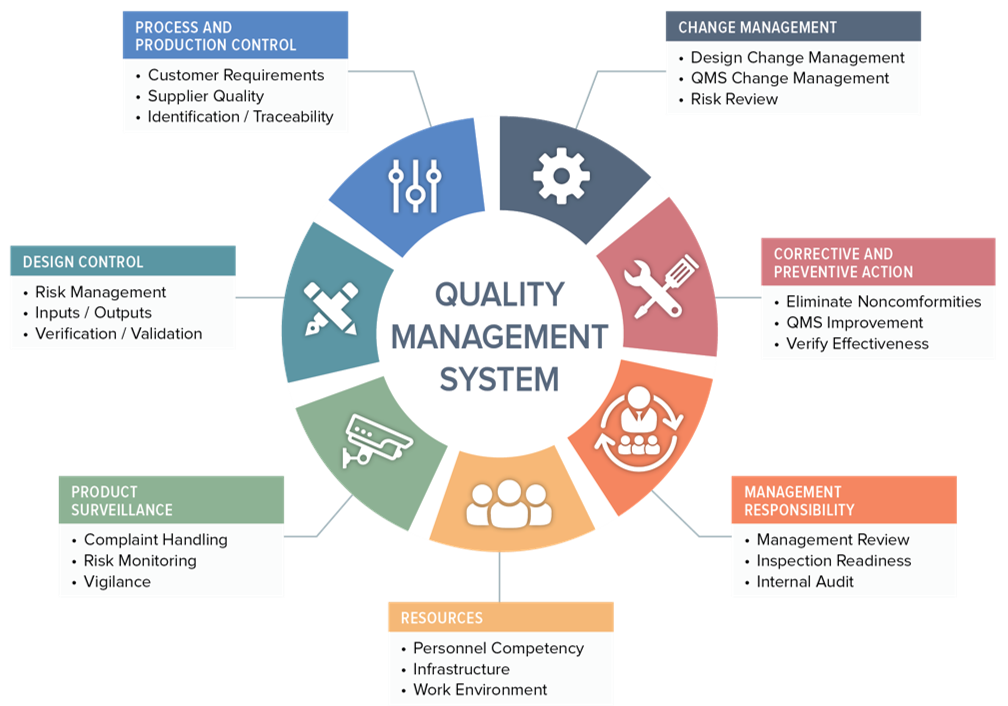 QUALITY MANAGEMENT SYSTEM (QMS)
A quality management system (QMS) is defined as a formalized system that documents processes, procedures, and responsibilities for achieving quality policies and objectives. A QMS helps coordinate and direct an organization's activities to meet customer and regulatory requirements and improve its effectiveness and efficiency on a continuous basis.
ISO 9001:2015, the international standard specifying requirements for quality management systems, is the most prominent approach to quality management systems. While some use the term "QMS" to describe the ISO 9001 standard or the group of documents detailing the QMS, it actually refers to the entirety of the system. The documents only serve to describe the system.
BENEFITS OF QUALITY MANAGEMENT SYSTEMS
Implementing a quality management system affects every aspect of an organization's performance. Benefits of a documented quality management system include:
Meeting the customer's requirements, which helps to instill confidence in the organization, in turn leading to more customers, more sales, and more repeat business
Meeting the organization's requirements, which ensures compliance with regulations and provision of products and services in the most cost- and resource-efficient manner, creating room for expansion, growth, and profit
These benefits offer additional advantages, including:
Defining, improving, and controlling processes
Reducing waste
Preventing mistakes
Lowering costs
Facilitating and identifying training opportunities
Engaging staff
Setting organization-wide direction
Communicating a readiness to produce consistent results
ISO 9001:2015 AND OTHER QMS STANDARDS
ISO 9001:2015 is the most recognized and implemented quality management system standard in the world. ISO 9001:2015 specifies the requirements for a QMS that organizations can use to develop their own programs.
Other standards related to quality management systems include the rest of the ISO 9000 series (including ISO 9000 and ISO 9004), the ISO 14000 series (environmental management systems), ISO 13485 (quality management systems for medical devices), ISO 19011 (auditing management systems), and IATF 16949 (quality management systems for automotive-related products).
ELEMENTS AND REQUIREMENTS OF A QMS
Each element of a quality management system helps achieve the overall goals of meeting the customers' and organization's requirements. Quality management systems should address an organization's unique needs; however, the elements all systems have in common include:
The organization's quality policy and quality objectives
Quality manual
Procedures, instructions, and records
Data management
Internal processes
Customer satisfaction from product quality
Improvement opportunities
Quality analysis
ESTABLISHING AND IMPLEMENTING A QMS
Before establishing a quality management system, your organization must identify and manage various connected, multi-functional processes to help ensure customer satisfaction. The QMS design should be influenced by the organization's varying objectives, needs, and products and services provided. This structure is based largely on the plan-do-check-act (PDCA) cycle and allows for continuous improvement to both the product and the QMS. The basic steps to implementing a quality management system are as follows:
Design
Build
Deploy
Control
Measure
Review
Improve
Design and Build
The design and build portions serve to develop the structure of a QMS, its processes, and plans for implementation. Senior management should oversee this portion to ensure the needs of the organization and the needs of its customers are a driving force behind the systems development.
Deploy
Deployment is best served in a granular fashion by breaking each process down into subprocesses and educating staff on documentation, education, training tools, and metrics. Company intranets are increasingly being used to assist in the deployment of quality management systems.
Control and Measure
Control and measurement are two areas of establishing a QMS that are largely accomplished through routine, systematic audits of the quality management system. The specifics vary greatly from organization to organization depending on size, potential risk, and environmental impact.
Review and Improve
Review and improve detail how the results of an audit are handled. The goals are to determine the effectiveness and efficiency of each process toward its objectives, to communicate these findings to the employees, and to develop new best practices and processes based on the data collected during the audit.
………………………………………………
Oss Middle East Company:

Aim to help organization in all sectors in Egypt and Middle East to apply the international standard in Quality Management systems in all fields.

OSS accredited by:-
OSS register by Many Egyptian Organization:
Other Article:-